Email Newsletters are the New "Slow"​ Hustle for Financial Freedom
You've probably heard that email newsletters are the new "slow" hustle. But what does that mean exactly? And more importantly, how can you use email newsletters to create financial freedom for yourself and your business?
In this blog post, we'll explore those questions and discuss some tips for getting started with email newsletters. So read on to learn more!​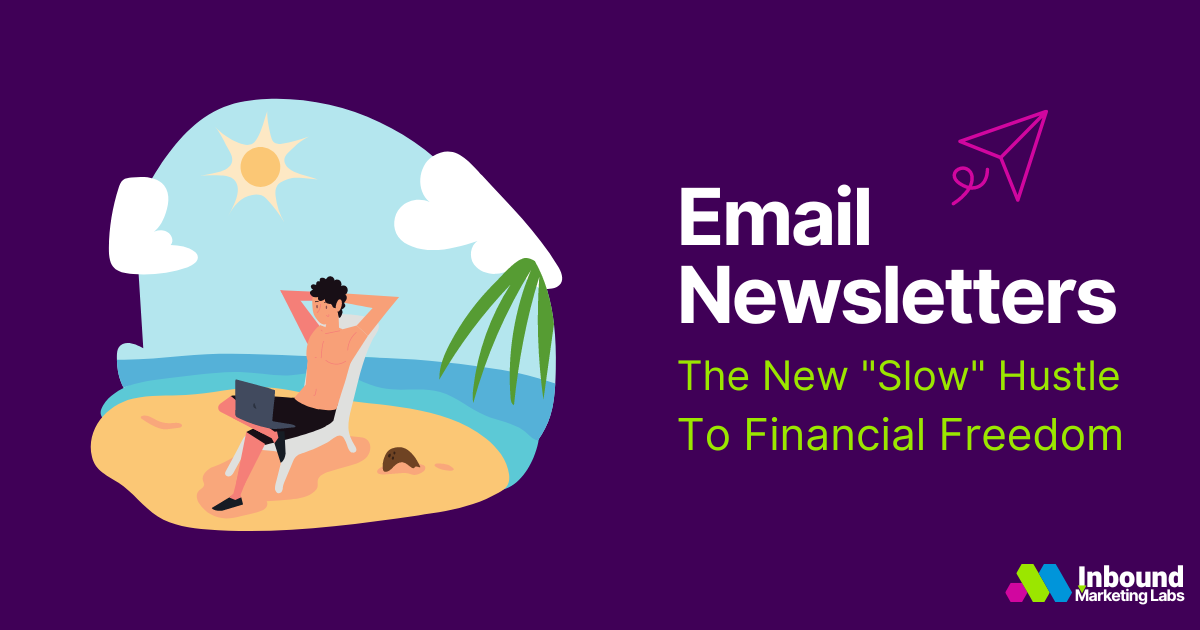 When it comes to building a successful online business, there are a lot of different things that you can, need, and should do in order to become successful, and someday, achieve financial freedom.
Financial freedom
The ultimate holy grail of online business. Which is why we're all here, right?
In the last few years, I have seen so many people struggling and wallowing over this.
They can't decide whether to do a 4-hour work week or to engage in 23 side hustles, working their ass off to become financially free.
None of them works actually...
I can tell you with confidence because I've been through them both.
But today isn't about me or my story, we'll keep that for another day.
Today, I want to show you how YOU can make this work, for YOUR business, and YOUR financial freedom.
I will show you what works, and has worked not only for me, and hundreds of my clients, and is an evergreen strategy.
Then, I will show you some examples of extremely successful brands, all built on the foundation of something very basic. And the strategy I am talking about is...
An email newsletter.
Yes, read that again.
A Simple Email Newsletter
It's a marketing strategy that has been proven time and again, and thousands of creators today are living proof that you can make big money, with email newsletters alone.
You do not need to work your ass off, but it's not a 4-hour work week either.
Think of this as a slow hustle, that you build one day at a time, and create a solid foundation for your future retirement.
It may appear daunting at first, but I am here to show you it's not, and walk you step by step, toward your goals.
And today, we are going to take the first step toward building our own email newsletter!

But that's for later. For today, let's get started.
Day 1: Today's topic of discussion is why email newsletters are so important to build an online business, and then I will show you some unique examples of great newsletters to motivate you to start one for yourself.
You can watch the full lesson on Video here, or you can continue reading below.
Then, at the end of this lesson, I will give you an action item to complete.
Ready? Let's go...
Why Newsletters, Why Now, and Why You?
I can give you at least twenty reasons but to respect your time, I'll give you my top 6 reasons why you should start an email newsletter today.
1. Newsletters have the lowest barrier to entry - almost no friction at all.
You can literally start a newsletter in 3 minutes or less. You don't have to record a video, edit a blog post, or find images or links to insert. You can simply start an email newsletter and begin sending it to the audience of one, yourself.
And if you are into sharing, then send me your sign-up link and I will be your first subscriber.
2. Newsletters let you take your audience with you, wherever you go.
Once again, unlike other channels where you are building a home on shared land, your audience remains with you for the life of their subscription.
3. Newsletters deliver high-quality (and real) engagement
One of the biggest benefits of an email newsletter is that it gives you get a direct line of communication with your audience. No social distractions, no noise, only signals. They will engage with you on a personal basis, like you are engaging with me, right now, as you read and clicked on my email.
There is massive value in this one-on-one conversation because it leads to the second benefit.
4. Newsletters build your authority
Once you start delivering value as I show in this course, you will become an authority and a trusted expert in your industry. When your subscribers read the emails you send to them, and you focus on delivering value to them (and it's not difficult, as I will show you later in this course) you will be regarded as a prominent influencer in your category.
Being an influencer brings advertisers, sponsors, and other businesses to your doorstep, asking for your services and expertise.
5. Newsletters create good friends
When you deliver quality content and genuinely care about helping your readers, you build a great relationship with your subscribers and turn them into valuable friends. By providing them with valuable content that they can use in their own lives, you are helping them leverage your knowledge and that creates a lot of gratitude. I can tell you with personal experience, how many great relationships I have built over the last 11 years, all because of an email newsletter.
Not only friends but I've also successfully asked for opinions, launched new products, and conducted surveys for my clients in email newsletters.
6. Newsletters drive extra traffic to your website and social media
Email newsletters are a great way to drive traffic to your website, or even your TikTok videos. (I've recently invested in a start-up doing just that) You can share your latest blog post, let your subscribers know about new products or services that you're offering, or a new video you posted on YouTube, which increases engagement, and drives the value of your social channel.
7. You can sell products and your services in a newsletter
You can sell your own products or services through your newsletter, or if you do not have a product, you can just promote affiliate products. And if you build up a large enough email list, you could even start charging for access to your newsletter! And last, but not least, if you can't think of anything to sell...
8. You can monetize your own thoughts & research with a newsletter
An email newsletter is a very effective way to monetize your thoughts. Let that sink in for a moment...
You can literally monetize what you're thinking by writing it and creating a low-priced monthly subscription for your premium content. There are many tools like Beehiiv, Substack, and Patreon that will let you create a subscription program in no time, with no hassle.
And above all, the newsletter is the foundational building block to creating your own community
The most important reason, not listed above, is that an email newsletter will help you build a strong community around your brand. By providing valuable content and creating a space for conversation, you can turn your email list into a group of loyal fans who are excited to support your business.
Examples of Some Great Newsletters
I am sure you've already heard the story of how the Morning Brew newsletter sold for $70 million+ and The Hustle was acquired by HubSpot in a deal estimated to be valued at around $25-$30 million. So I am not going to talk about them.
Let's look at some unusual success stories in the business of newsletters, that I am particularly fascinated with.
Friday Forward by Robert Glazer
In 2016, Robert Glazer, CEO of VC Fund Acceleration Partners started writing a motivational email to his team of about 30 employees. His objective was to send them a weekly email to help them get ahead in their jobs and feel motivated.
Today, his newsletter "Friday Forward" has over 200,000 subscribers, and readers in 50 countries read his email.
Think about that for a minute. From 30 to 200,000 subscribers!
In the words of Robert Glazer, himself:
"I love hearing the stories of how Friday Forward is motivating teams and inspiring people to build their capacity, resilience, and gratitude in their work and life. I'd be honored to have you join the community."
The Daily Skimm by Carly Zakin and Danielle Weisberg
Starting in July 2012, The Skimm now has over 7 million subscribers and is estimated to be worth over $55 million in valuation.
The founders met while studying abroad in Rome. After they graduated, both got jobs working with NBC and became roommates. Their friends started asking questions about current events, news, and what was happening in the world.
In Carly's own words:
"These were our friends who went to the best universities—the smartest people we know—and they were asking very real questions. They weren't living and breathing the news like we were."
So they saw a massive opportunity and an idea for a business. At the time, there was not a single media publication that was targeted exclusively at young millennial women.
Their friends, asking these questions were smart people but did not have the time to read and analyze the news and what mattered to them.
That is what became the basis of what we now know as theSkimm - Literally, skimming the daily news and events, targeted at young millennial women.
Lenny's Newsletter by Lenny Rachitsky
Lenny Rachitsky did not start out with the intention of writing a newsletter. In fact, he worked with Airbnb for 7 after they acquired his company Localmind. His role with Airbnb was as a product manager. In April 2019, he wrote a medium blog post about his experience and what he learned about building a business.
The blog post became super popular, and the founder of Airbnb Brian Chesky shared it with his team, and it drove a ton of traffic which led to the birth of the newsletter.
As of October 2022, the newsletter has over 250,000 subscribers and in Lenny's own words, he now makes more from the newsletter than he made at his "fancy tech job at Airbnb, stock included."
Motivated enough?
I am super excited that you've taken this step and have come this far. Now let's get you an assignment for today.
Your Action Item for Newsletter Crash Course
Today's action item includes one task and one challenge. Yes, that's right. There's going to be a challenge in the end. Nobody said it was easy.
Tasks
Today, I want you to go to your inbox, and make a list of 10 newsletters. Divide this list into 2 parts.
Newsletters that you enjoy reading
Newsletters that make you cringe (the ones that you don't like)
I am sure all of us have some emails in our inbox, that we never really liked, and yet, haven't opted out of.
Then, I want you to make a list of 3 things you like about the five newsletters in List #1.
It doesn't matter what if it's the font, the color, the images, the content, the from-name, the subject line, or the occasional joke they may send. Just make a list of three things you like about each of them.
Then, I want you to make a similar list, but this time, about the list of newsletters that you don't like. What don't you like about each of these newsletters?
Challenge
Now, I want you to reverse the process. Now, I want you to write 3 things that you DO NOT like about the newsletters that you like reading. How do you think can they improve, what can they do better?
Last, but not least, you know where this is going, don't you?
I want you to write 3 good things that you like about the newsletters that you don't like. It's not easy, but not hard either if you're serious about making a business out of email newsletters.
If you want inspiration, reply to this email, blog post, or article, and I will share my list of newsletters I love, what I like and dislike about them, and the same for the other kind.