How Many BackLinks Do You Really Need To Rank on First Page of Google?
What's the secret to ranking on the first page of Google? Is it backlinks? Traffic? Keywords?

In this blog post, we'll take a look at the data to bring you the truth about backlinks and how to rank in the top spot with inbound marketing.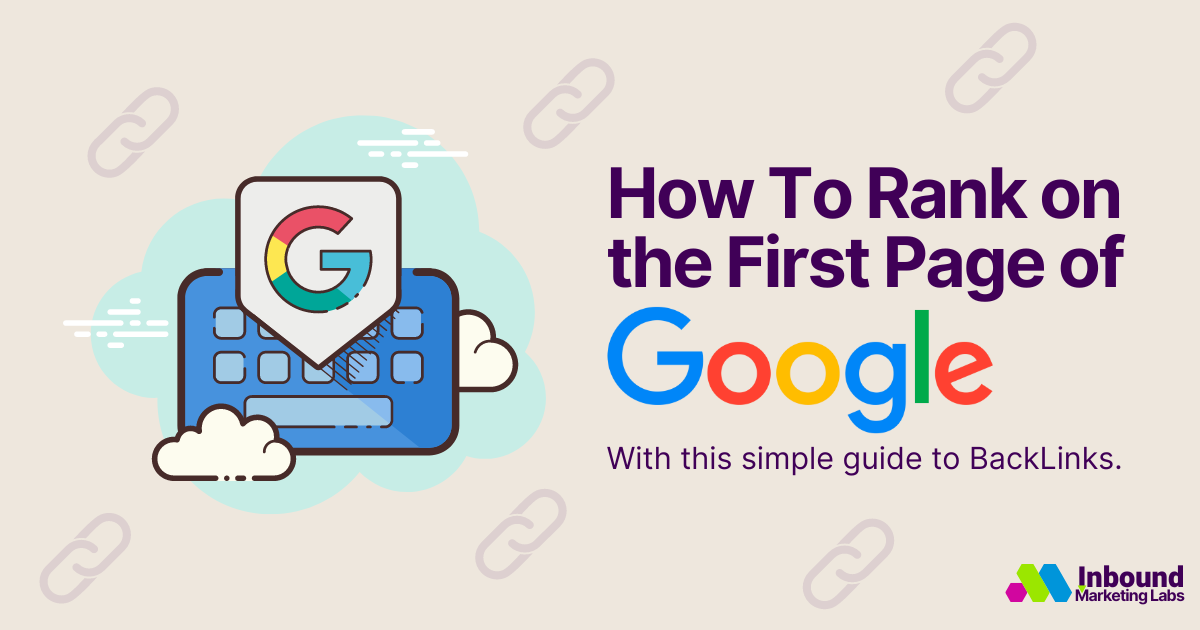 At Inbound Marketing Labs, we continue to research and find answers to difficult questions like this.
Why do we care about backlinks?
Our clients continue to stress their teams about getting backlinks when we start with their inbound marketing program.
Oftentimes, we have to convince them that it is not the quantity of the backlinks, but the quality of your content that makes Google rank your site higher above the rest.
In today's experiment, let's find out how many backlinks do you really need.
TL;DR If you're pressed for time, here's the answer for you.
"NOT A LOT"
No, you do not need a lot of backlinks to start ranking on page 1 of Google
And the research we do at Inbound Marketing Labs proves it.
It's a mini experiment, but what we find is very interesting, and encouraging for small website owners.
SEOs and even Google have always placed a hefty premium on backlinks.
The only two things that seem to matter are high-quality content and high-quality backlinks.
But how useful is it for a small business, just starting out?
As an inbound marketing agency, that helps small businesses grow, that's a question we wanted to answer.
Especially considering the fact, that the marketing budgets are already limited for a small business.
So we decided to put it to the test, to see if it makes sense to invest in an extensive link-building program.
They will call you crazy
Any SEO will of course call you crazy if you questioned the premise.
After all, Google's original name was PageRank, and even before that, it was BackRub (if you know what I mean)
So, let's conduct a quick experiment.
We'll google a few terms, take the top 5 results from each of them, and then check backlinks for each of them in AHREFs
I choose AHREfs because their algorithm does identify the backlinks you will need in order for you to rank well for that specific term.
For the sake of this experiment, I am going to choose a few difficult terms.
Terms that are extremely competitive, and terms that are relatively long tail.
Let's look at the first keyword
First Keyword: Matcha green tea benefits for skin
As you can see, at least 1 out of the top 5 results has only 1 backlink. It could just be my mom, so basically it's not hard to rank a linkless page in Google.
Not only that, but it's also the worst-ranked site (AR column) according to AHREfs. Its domain rank DR is also at the bottom as far as this rating is concerned.
While you're at it, take a look at result 7, which has a sum total of 3 backlinks, and yet, it ranks on page 1 of google search results.
So, it doesn't demonstrate a clear correlation between backlinks and your SEO rankings. In fact, if you published content that prompts conversations, is worthy of sharing, is worthy of commenting upon, then you will naturally get backlinks.
Here are a few of those examples, just for fun's sake.
Keyword 2: Are backlinks important?
And here is what the top 10 search results look like for this key phrase.
I continued the experiment and picked a few more "difficult/hard to rank" keywords, according to AHREF.
Keyword 3: Content Marketing Template
And yet, Google seems to think totally differently.
Let's try one more, shall we?
Keyword 4: Complete Vegan Protein
This time, I picked a topic closer to my own heart.
Complete vegan protein
And yet, Google has an entirely different idea
So, what did we observe, and hopefully learn from this?
Google will consider the quality of your content before it looks at the backlinks, which of course also means other content you're publishing on the subject.
It is not hard to start getting some free organic traffic that you deserve, directly from Google.
Even when the keywords are considered "extremely" hard to rank.
You just have to focus on your "inbound" strategy
How can we help?
Our team helps clients build an inbound strategy, even if you are just starting your content/inbound journey.
In fact, we're recording the first season of our new podcast, where we will take 3 brands through the setting up of their complete inbound strategy.
Not only will we build and implement their entire strategy, but we will also record every video and showcase it on our podcast and YouTube channel.
Let me know if you'd like to get early access for free.
Next week, I will talk about domain authority and the importance of DA/DR in your rankings.